Much has been made and written about the negative headlines that have befallen LULU of late. Instead of diving into another discussion over see-through pants or leadership transition issues, let's take a look at the performance of its stores to see if that can shed more light on the company's misfortunes of late.
Same-store sales are decelerating
Same-store sales is a frequently used metric to gauge a retailer's performance. With some patience, you can usually pull this number right out of a retailer's quarterly earnings report. The metric measures the year-over-year increase in sales generated by all stores that have been open for at least a year. It's calculated as a year-over-year ("yoy") change instead of quarter-over-quarter to account for seasonality in retail sales (sales always get a big bump in the 4th quarter because of the holidays).
Looking at same-store sales instead of just total sales can be more telling because it filters out the impact of new store openings. A chain can pump up sales simply by bombarding the map with new locations, without actually increasing the business flow within its existing outlets. This can be problematic since a chain will eventually reach a point of saturation when it runs out of room to build. A good example of this is Starbucks in New York City, where a Starbucks café on every other block means the company's own stores begin to take business away from each other.
Back to LULU. Chart 1 below shows LULU's same store sales over the last 2 years. Performance numbers have limited value when viewed in insolation, so we compare LULU's figures against some other retailers (Express, Gap, and Urban Outfitters).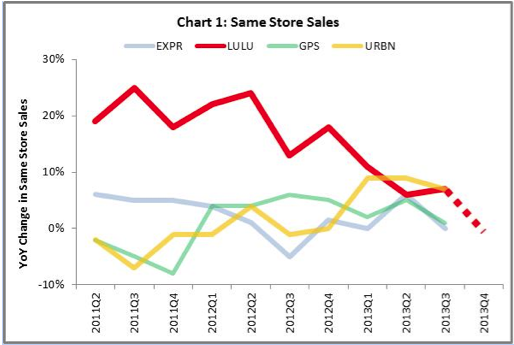 We can see that the growth in same store sales for LULU has decelerated dramatically in the past year. To be clear, sales are still growing, but at a considerably slower pace. Same store sales were up 18% yoy a year ago, but have since declined to a more pedestrian +7% in 3Q. Then things got really bad. In the December 12 earnings release, management predicted that same store sales will plummet even further to zero growth for the 4th quarter. It's difficult to justify LULU's premium valuation when sales growth is rapidly converging to the average.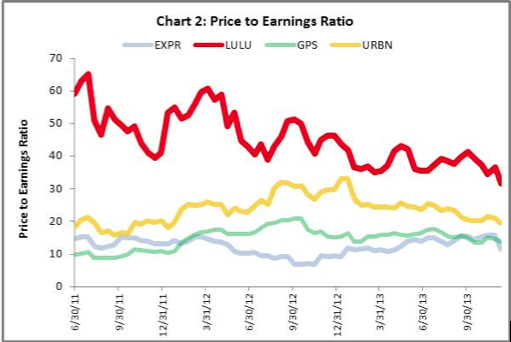 Over the course of this decelerating trend, LULU's PE ratio was punished as investors "realigned" expectations (Chart 2). Following the December 12 earnings release alone, LULU plummeted 11.6%.
From a more fundamental standpoint, the trend marks a very sharp deceleration in a very short period of time. No doubt see-through yoga pants played a hand in this, but LULU's early success has brought a host of competitors to its niche. Gap is opening more Athleta stores, and the discount department stores all carry cheaper alternatives. Both are diverting foot traffic and potential sales away from LULU's stores.
In the December 12 earnings call, management also cited heavier discounting from its rivals. LULU can respond in kind to reclaim some lost market share, but deep discounting runs the risk of cheapening the brand's upmarket image. It also sets a bad precedent by encouraging its customers to abstain from buying at full price in the future in hopes of scoring a discount later on.
Of course, every metric has its shortcomings. Same-store sales doesn't capture changes in online sales. This component can be particularly meaningful to an upmarket brand like LULU which targets a younger, more affluent population that's more likely to shop online (as of September 2013, internet sales made up 14% of LULU's total sales). Bearing that limitation in mind, the trajectory of LULU's same-store sales going forward will be a critical data point in gauging the effectiveness of the company's efforts to right the ship.
So is LULU a good buy at this point?
The stock is down over 20% this year. This is especially bad in the context of a broader market rally (S&P is up 25% ytd). Following the 3Q earnings release alone, the stock plummeted 12%. Attempting to jump in now would be akin to catching a falling knife. The valuation may look historically cheap, but the company is also facing its worst problems since its inception. The mixture of internal and external pressures currently attacking LULU makes it wise to stay away for the time being.  You may miss out on buying the stock at the very bottom if a recovery does take hold, but running into a theater while it's on fire so you can "get a good seat" defies common sense.
What do you guys think? Is Lulu Lemon worth looking at in 2014?