If you've been following technology and financial markets lately, you may have noticed that both sectors have been absolutely en fuego over the past year. Let's use ETFs as a quick measure of the 2 sectors' performances:
The iShares Technology ETF (IYW) is up 20% year to date, while the iShares Financials ETF (IYF) is up 30% over the same period. Equities have performed well in 2013, but there are also sector specific factors driving the strong performance in these two spaces. We'll take a look at these factors and identify some of the stars that have separated themselves from the rest of the field. You've got a good excuse to be feeling rather smug right now if you were prescient enough to hold one of these.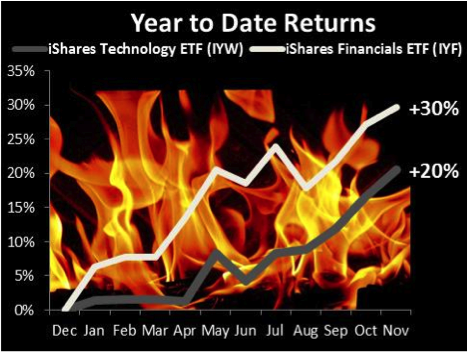 Financials
Financial stocks and the stodgy institutions they represent usually don't elicit much excitement from the average investor. The sector's performance this year, however, has been anything but boring.
The most important driver for this performance is the economic recovery. Banks make their profits by lending money to companies and individuals. As the economy accelerates, companies will require more capital to invest in new machines and to recruit more employees. Likewise, the recovery in housing prices is spurring more people to purchase houses, which translates to more homebuyers borrowing money from banks via mortgages. An economy that's perking up hence generates a lot of business for the financial services sector. As an added bonus, fewer loans will default since borrowers are more likely to be capable of repaying loans in a strong economy.
Another reason for the strong performance in banks is that the hangover from the 2008 crash is gradually fading. Many financial services companies were saddled with scrutiny (in some cases lawsuits) from regulators for aggressive lending practices during the housing bubble and misrepresentation of the risk carried by the securities they sold. A major legal overhang has been removed now that the bulk of these lawsuits have been settled. This eliminates a lot of uncertainty for investors and removes a major drag on the sector's stock performance.
Here are a couple of this year's MVP's in the sector: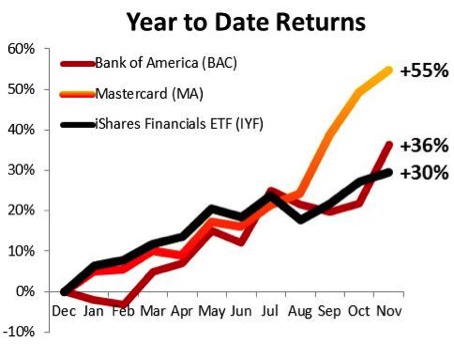 Bank of America (BAC): Bank of America is a direct beneficiary of both factors listed above. As an integrated bank, it lends directly to both corporations and individuals. BAC also makes heaps of ancillary fees from arranging loans (matchmaking borrowers to other lenders) and trading them afterwards. It recently reached a settlement with Freddie Mac to end a dispute surrounding the quality of the mortgages BAC originated during the housing bubble.
Mastercard (MA): Mastercard earns its money by processing credit card payments. It collects a small percentage of each purchase paid for by one of its credit cards.  For every dollar you charge on a Mastercard affiliated card, MA collects roughly two pennies. Apply this to hundreds of billions of dollars in spending and those pennies add up quickly. Consequently, the pickup in consumer spending spurred by the economic recovery has led to very healthy growth in MA's profits. MA supercharged growth further by aggressively increasing the number of merchants that accept their cards and inducing consumers to pay for their purchases with credit cards rather than cash.
Technology
Technology stocks have also enjoyed a solid run in 2013. Similar to bank stocks, tech stocks benefit directly from an improving economy. Companies are more likely to invest in upgrading their infrastructure and spend on new technology while their earnings are healthy. In addition, consumers spend more in an improving economy, which increases demand for electronic goods and the components that go into them.
Secondly, the performance of the tech sector tends to gravitate around a handful of bellwethers such as Facebook and Google. When these companies do well, and they've done VERY well this year, they tend to lift the performance of stocks across this sector.
Two of this year's outperformers in the sector are: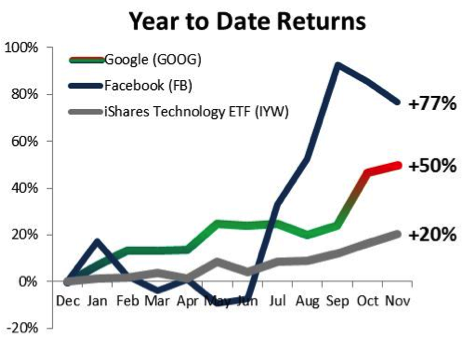 Google (GOOG): The continued proliferation of Google's mobile operating system, Android, means that Google has its hands in people's pockets around the world. Despite its size, Google continues to grow at an impressive clip while consistently generating margins that would make every CFO jealous. If you're a growth investor, this is the holy grail of growth stocks. You can now trade in a dozen shares of GOOG for a pretty decent used car.
Facebook (FB): A major investor concern for FB heading into 2013 was whether or not it can generate significant advertising revenue from mobile devices.  FB put those fears to rest by increasing mobile advertising's share of its total revenues from 5% to 13%, and predicting that it will eventually rise to make up half of its advertising revenues.  The stock price roughly doubled in the months after that announcement. Like GOOG, FB is a prototypical growth stock.
As the economic recovery gears up to a more mature phase, the opportunity for "easy money" in both of these sectors is probably over. Stocks usually do very well across the board in anticipation of a recovery and within its early stages. Following that, individual stock selection becomes more important, so keep searching for those potential MVPs!