Before they were the sultans of Wall Street or the titans of Goldman Sachs, every successful name that gets dropped or whispered on the floor of the stock exchange these days was at one point or another, an investor of tomorrow. These days however, with the internet and social media changing the way the best and brightest of tomorrow connect and interact, finding the next Hang Seng hipster, dapper Dow Joneser, or savvy S&Per requires a modern touch. A touch that Wall Street Survivor is here to provide. We've put together a short list of where we think the investors of tomorrow, are chilling out today.
1) Occupy Wall Street
For the investors of tomorrow, where better to cut your teeth debating the pros and cons of the stock market while hanging out with your high school buddies who are still studying political science?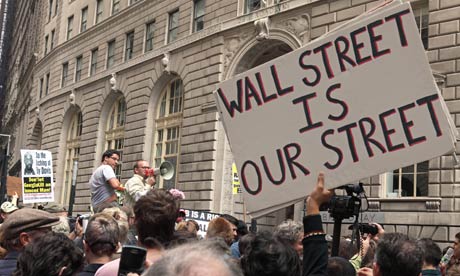 2) Quora
There's something to be said about the freedom to have an online perspective about investing that isn't constantly fighting for an audience that is hypnotized by BitStrips, baby pictures, and Miley Cyrus gossip. Quora may be the "best place for information" but it's also the best place to not get inundated with requests to play Candy Crush, Pet Rescue and Farm Heroes while trying to build your soap box.
3) MySpace 
It's still around, and it is coming back with a vengeance.  Never mind the fact that every Hang Seng hipster will claim to only use the site "ironically", MySpace has been revamped to offer a mobile platform, instant messaging and personally customized radio stations. If Forbes is predicting its comeback, then who is anyone to argue with that, or argue with it's new co-owner Justin Timberlake.
4) Seeking Alpha
The last thing any future investment hotshot wants while learning the ropes is to be inundated with articles and information geared at selling them something, rather than educating them. You can't pull a fast one over on generations Y and Z these days, and if you lose them with old school internet sales techniques or direct response marketing approaches, you've lost them for good. Seeking Alpha features articles written by third party investors and industry experts sharing their views, not their sales pitches, and that's what makes it different.
5) Beijing's Garage Cafe
This is the back, back, back room of China's answer to silicon valley, where the future Zuckerberg's and Gate's of Asia are being born, hopefully withe better hair, and without the mom jeans. Long held beliefs that Asian technologies are generally nothing more than North American knockoffs, are seriously about to be challenged with what's about to bounce out of that market.
6) Reddit
No self-respecting, troll-fearing, child of the internet is not haunting the halls of this niche news aggregate at least two or three times a day to check out what's on the front page, and to sift through their subscriptions like personal finance and investing. It's where the "cool kids" go to show the other "cool kids" what's cooler than the cool thing they thought was cool yesterday. That's a whole lot of cool.