What makes Twitter fun is that you – as a user – get to choose who you want to follow, making your timeline an individualized news feed that's both unique and personal. That's the great genius of Twitter, after all. It gives you exactly what you ask it for. Whether you're looking for some laughs, some news, or some celebrity feuds (I'm on #teamkanye), Twitter is there to oblige.
Those things have universal appeal, sure. But you are here because you're looking to grow your wealth. So, since you're in control of who shows up on your Twitter feed, why not ask it for some financial advice? Below, we have gathered some tips on how to curate your timeline into a fiscally prudent advice-giving machine.
Follow The $, Not The #
Yeah yeah yeah, #hashtags are really fun. We know this. But as long as we're using the prefixes on Twitter to fall down Internet rabbit holes of links and connectivity, let's make sure we're aware that the hashtag isn't the only player in the game. Tweeters, may I introduce you to "$"?
Invented by the @stockwits account, a great resource for market info btw, the "$" prefix works like a hashtag. but is specifically for stock ticker symbols. For example, adding the "$" prefix to LULU, the ticker symbol for Lululemon, connects us to all of the current tweets about that stock.
Last Monday when the market dropped (I'm looking at YOU, government shutdown) Twitter informed me that Lululemon happened to be outperforming the rest of the market. I followed the $LULU link and saw this: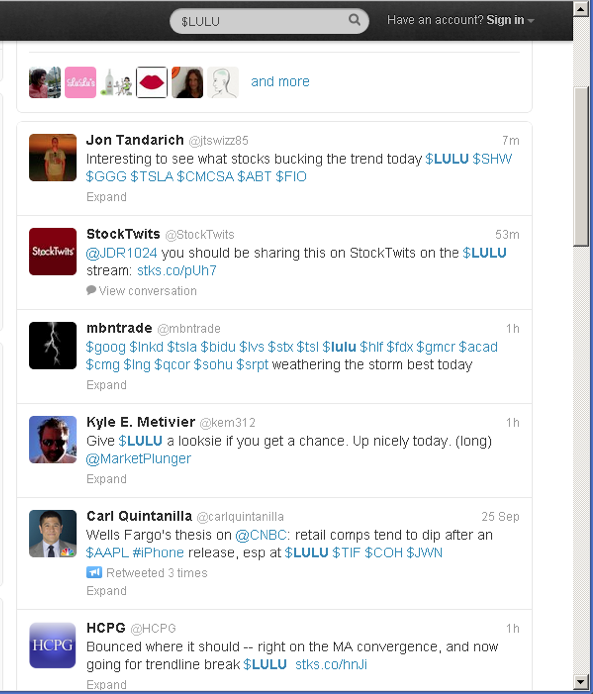 That's good info! And to think I got it just by scrolling through my timeline, in between jokes from @MichaelIanBlack and fantasy football advice from @ShannonSharpe. Ahh, Twitter. What a magical place.
Follow Traders, Not Trainwrecks
If you're following Kim Kardashian under the premise that any product she tweets about will jump in market share, I suppose I wouldn't fault you. She has approximately one zillion followers, and companies pay good money for the advertising she doles out on her feed. I mean, I certainly wouldn't believe you when you told me you'd followed her for "business reasons." But yes, technically you'd have a point.
Otherwise, you don't really have a legitimate excuse for following the Amanda Bynes' and Lindsay Lohan's of the world. Sure, it's entertaining to keep an eye on their antics, but really, other than water cooler fodder, what are these trainwrecks doing for you? Why not follow someone who can offer you, and your portfolio, real value?
Everyday on Twitter, hundreds of traders share knowledge and insight via their accounts. Depending on what type of stocks you are most interested in, a quick google search can give you lists of top traders in a number of different fields. Whether you're looking for timely stock tips, funny market-driven commentary, or even people covering the market in the media, Twitter has a trader for you.
Be warned though, professional traders aren't exactly known for their restraint when communicating; your timeline will become much more crowded. They tweet a lot, ok That's a good thing though, when they're keeping you up to date on a market that literally changes by the second.
Follow Savers, Not Spenders
It's more than common for us to follow business and products that we enjoy on Twitter.  I, for example, love keeping an eye on @ChipotleTweets and @JetBlue. And yes, companies do sometimes offer deals to their followers. This trend started back in 2009, when Dell was one of the first to offer a discount specifically to its followers on the site. Certainly, this is a nice way to reward loyal customers. However! There is no getting around the fact that when companies reach out to you on Twitter, they are trying to get you to buy their product. Trust me, they are definitely tracking the ROI on those tweets.
So instead of following accounts that convince you to spend money, why not follow accounts that convince you to save money?
Twitter is littered with accounts focused on the goal of saving. @Mint, in particular, is a great account offering personal finance tips. They give advice on everything from investing to saving, and help you make smart purchases small and large. The account operates in tandem with their website, which conveniently allows you to manage all of your finances in one place.
@SmartyPig and @AlmostFrugal are also accounts dedicated to helping you save money. Other places connecting you to great deals or coupon codes include: @retailmenot, @coupontweet, @dealsplus, and @slickdeals. That's just to name a few.
So the next time you find yourself on Twitter, which, let's be honest, will be sooner than later, don't be afraid to multitask. The jokes you're reading and sports scores you're checking up on certainly won't mind if you add some financial education into the mix. Choose to also follow some traders and $STOCKS as well, and lead yourself to higher returns.