Can you believe it's already September? Where'd the summer go? Well, it flew by. And it's time to get back to the real world… But Wall Street Survivor is here to make that transition just a little easier on ya, with our brand new Wall Street Survivor courses.
Wall Street Survivor Courses
---
ALSO READ: How Social Media Is Affecting The Stock Market
---
There's a lot of information out there on what you should be doing with your money. How much money should you be saving? How do you get started investing in the stock market? What sort of strategy is right for you? There's a million answers in a million different places. Wall Street Survivor courses are meant to make that learning process easier, by bringing everything you need to know in one, easy-to-find place. Of course, the world of personal finance and investing is not one with black-and-white answers. But in order to get started, you need to gain a baseline knowledge. WSS takes you from point A to point B, from not knowing much to getting involved. And we do all this through simplified, fun and interactive courses.
Coursepacks Organize the World of Investing For you
Our new courses page organizes your lessons into sections known as Coursepacks. No matter what it is you're looking to learn about, it's now super easy to find. We know that starting down to the road to financial independence is a tough one. So instead of overwhelming with you tons of topics all at once, we've broken it down into simplified course curriculums. Here's an example of a few of our coursepacks:


Quick and Simple Courses Teach You What You Need To Know
None of the fluff, none of the jargon, none of the complex formulas. Just the stuff you need to know to get you going and investing your money. There's enough theory in all the textbooks out there, but those don't help you actually get started. Our courses break topics down in a way that makes sense for you, the investor.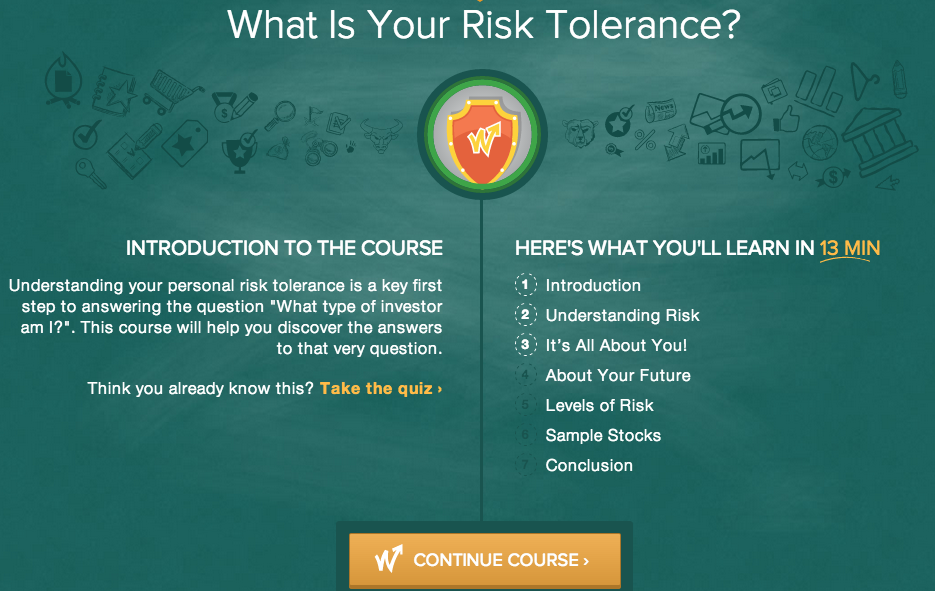 You're not just learning by reading, you're learning by doing
Our courses aren't just a bunch of words thrown onto a page. (Although the words that are there are pretty awesome!) We've baked tools right into these courses, so you're not only learning about different stocks, you're trading them too. Build a Course Portfolio of the stocks that make sense for you based on the lesson, and follow it to see your very own performance.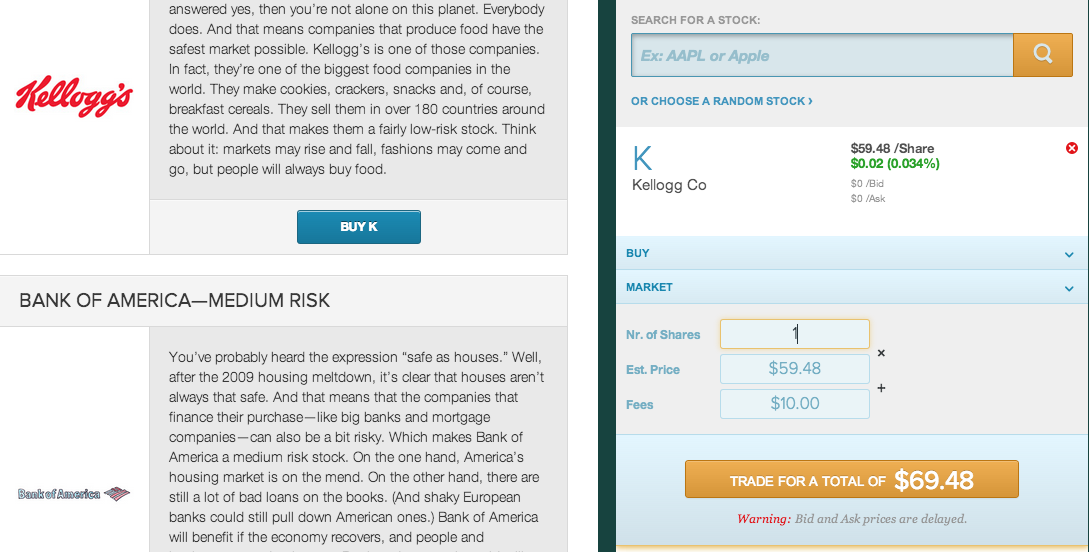 To get your badge you gotta take the quiz
You're not getting off that easy. After you learn the nuts and bolts of any topic, it's time to test your knowledge and pass the quiz to grab that shiny new badge. You've earned it!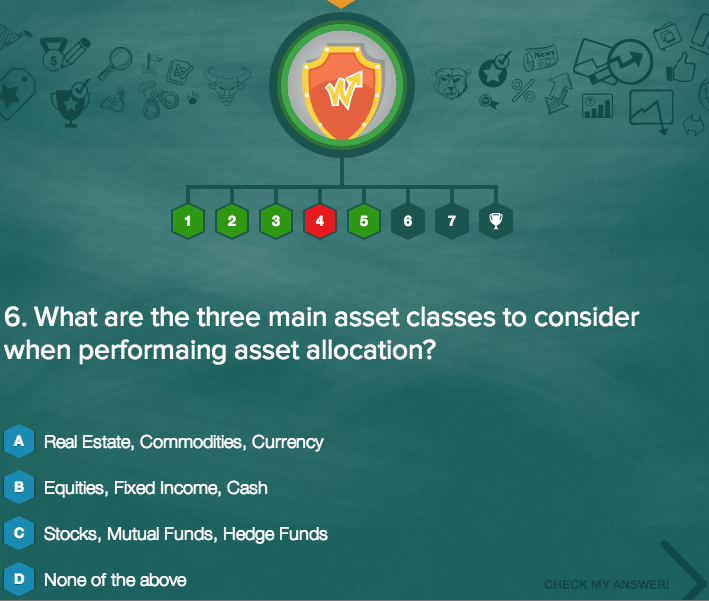 After you complete a course, we've always got more for you
Be it book recommendations, special offers from our partners and related courses, we've always for more in store for you.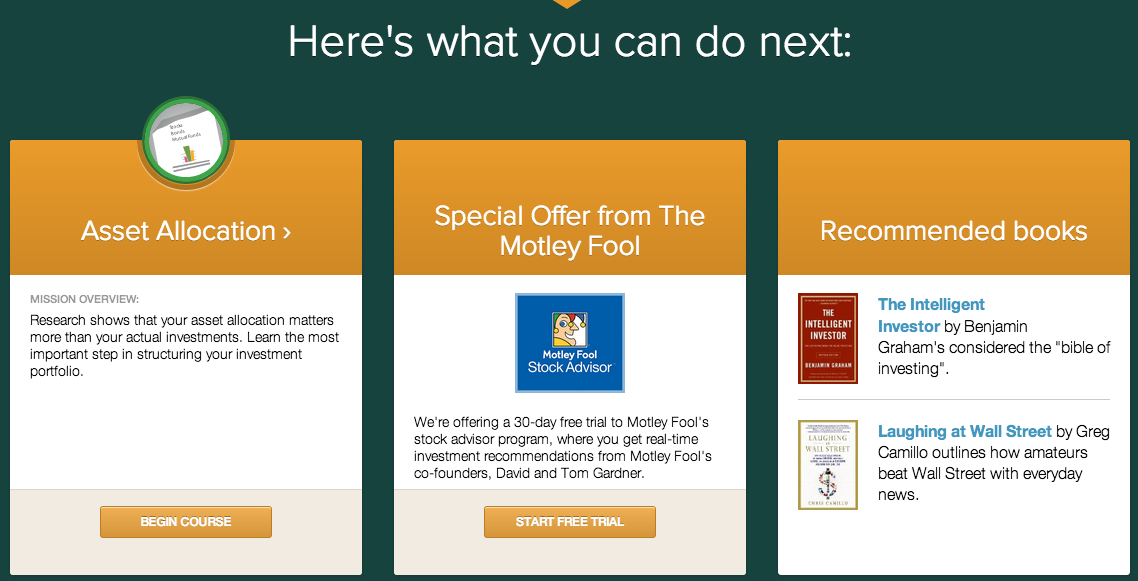 Important Reminder!
The Motley Fool Stock Advisor ranks as our #1 Best Investment Newsletter for the third year in a row.
Their stock recommendations continue to beat all of the other newsletters and they maintain a very high accuracy of their picks. Their 24 stock picks from 2018 have outperformed the market by an average of 44% as of July 7, 2019. Read that again. I didn't say their stock picks are up an average of 44%, I said they have BEAT THE MARKET by 44%.
No other newsletter comes close to that. You may have seen the Motley Fool' advertisements that their picks are up 367% compared to the market's 80%. Is The Motley Fool's Stock Advisor really as good as they claim?
Our results, at least since January 2016, suggest YES. You can now get their latest stock picks for ONLY $19/month or $99/year. But this is a special limited time offer. It expires tonight at midnight.
Get the Motley Fool's Latest picks
P.s. this offer is still backed by their 30-day guarantee