The Hack
The breaking news on April 23 sent shockwaves throughout newsrooms and news junkies. The Associated Press sent out a Tweet that two explosions rocked the White House and President Barack Obama had been injured.
---
ALSO READ: Can Everyday Investors Succeed in the Stock Market?
---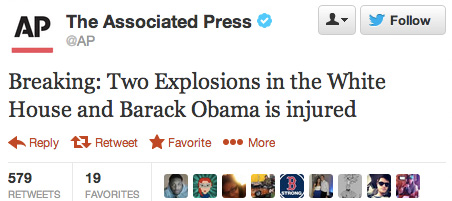 The news almost immediately made its way to Wall Street. A strong day on the market looked like it went into a tailspin. The Dow Jones Industrial Average plummeted by 143 points within a matter of minutes, causing the world's most cited stock index to lose $136 billion, according to the Washington Post.
However, the news was quickly debunked and the AP revealed its Twitter account had been hacked by the notorious Syrian Electronic Army. The market rebounded and things went back to normal as quickly as they went haywire, with traders moving on to parsing the latest economic data or rumor about a boardroom coup at some obscure company.
The Danger
*** SPECIAL ALERT -- May 10, 2020 -- Motley Fool Stock Picks On FIRE! ****
The recent Motley Fool stocks picks, even with this COVID crisis, are STILL performing well and beating the SP500! Here are some of their most recent picks and their performance:
Shopify (SHOP) – April 2, 2020 pick and it is already up 90%
Zoom Video (ZM) – March 19, 2020 pick and it is already up 16%
DexCom (DXCM) picked Feb 20, 2020 right before the market crashed and it is still up 17%
Tesla (TSLA) picked January 2, 2020 before the crash and it is up 77% compared to the SP500 -12% so it is ahead of the market by 89%
HubSpot (HUBS) picked December 5, 2019 and it is up 4%
Netflix (NFLX) picked November 21, 2019 and it is up 37%
Trade Desk (TTD) picked November 11, 2019 and up 50%
Zoom Video originally picked Oct 3 and it is up 87%
SolarEdge (SEDG) picked September 19, 2019 and it is up 20%
Zoom was also picked October 3, 2019 and it is up 95% since then.
The average stock they've recommended is up a life-changing 346% - more than 4X the return of the S&P 500 ! Now, no one can guarantee that every pick in Stock Advisor will have the same mind-blowing returns as Netflix and Disney. But you sure don't want to risk missing out.
Normally the Fool service is priced at $199 per year but they are currently offering it for just $99/year if you click this link. 
Hurry! Order now so you will get their next stock pick! Here is the expected schedule of release dates for their stock picks...:
June 4 - Tom's New Recommendation
June 11 - Tom's New Best Buys Now
June 18 - David's New Recommendation
June 25 - David New Best Buys Now
CLICK HERE to get The Motley Fool's Stock Picks for just $99 per Year! 
The day taught the world two important lessons. First, the AP should do a better job protecting its passwords. But most importantly, the hack/market plunge once again spotlights the importance – and dangers – of social media, which provides instant news in a world that can change with the click of a computer mouse.
In this video interview, Jonathan Corpina, a senior managing partner with Merdian Equity Partners, talks about these dangers with respect to computer-based trading.
"Back in the day, people watched the scrolling news feeds just like we'd watch the scrolling tape. Now, we watch Twitter for information and the scrolling information that comes out from there," he said.
He continued, "We're looking at all types of information and data that's out there. What we have to remember is where this information's coming from, how was it getting there, and is the information confirmed and is it coming from a good source?"
What's even more revealing: This video was shown on Nasdaq's website, an embattled exchange that has shown itself vulnerable to computer glitches like the one that shut down its market recently and also impeded trading of Facebook shares on the day of its initial offering.
Why Did It Happen?
This was a computer problem that went far beyond a Syrian computer expert somehow figuring out the AP's password and causing a brief panic among guys on a trading floor – far beyond.
This also shows the importance – and fright – that comes from high frequency trading. Usually dubbed HFT for short, high frequency trading allows computers to do most of the investing work. Programmers develop complex formulas that buy and sell millions of shares of company stocks within the blink of an eye.
High frequency traders have Twitter-feed updates that use phrases about corporate mergers, links to SEC releases and other business news into their algorithms. And now, it's also apparent that many of these computer programs can now interpret really bleak, awful news from news sources like AP when providing updates on Twitter.
We now live in a world where keywords like "White House", "Obama", "explosion" and "injured" are placed into some computer language and, when they appear on a reputable Twitter feed, trigger a massive sell-off of company shares.
There will always be bad news. And there's no end in sight to the new way market trading works. It's scary to think – or in this case, witness – the kind of power a hacker can have with a Twitter password. It's even scarier to think of the effects that a simple tweet or Facebook post could have on our financial markets.
So what do you think needs to be done to prevent this from happening again? Stricter High Frequency Trading regulation? Tighter social media security? Let us know in the comments section below. 
Learn more about the problems with High Frequency Trading in this tell-all book by Haim Bodek, Goldman Sachs insider and foremost expert in HFT. 
---
INVESTING TIP #27-- HOW TO GET FREE STOCK!
Get Up To $1,000 in Free Stock with Robinhood--the Commission-Free Brokerage!
Open a new account and receive one free stock valued at up to $500! Then, once your account is open, get more free stocks (value from $5 to $500) for each friend, family, person you refer!
USE THIS LINK
to get started with Robinhood!
---