We've all been there, at the end of another losing Fantasy Football season, handing over our money in shame and wondering where it all went wrong. As this is prime Fantasy draft season, now is the time to ask ourselves: have we been properly evaluating the players we "invest" in on our team? Is there a better way?
If we think of our teams like investments (which, by the way, they technically are if your league has a buy-in), we should be able to glean some drafting insights from the master of investing himself. Let us consider…who would Warren Buffett draft?
The Sleeper: Buy Low, Sell High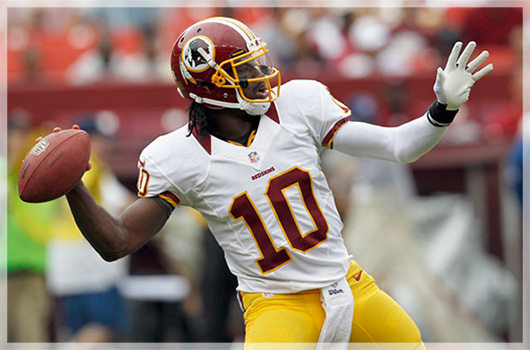 If you're anything like me, you rely heavily on ESPN rankings and last year's performance when drafting players. The top ranked players usually get picked first, right? In a way, though, this is akin to purchasing shares at their peak prices.
Maybe it's time to rethink this. After all, people don't usually get rich by buying only the most expensive stocks. Buffett, a preacher of value based investing, would probably advise us instead to draft players with high potential but low prices.  He'd want us to look for "sleeper" picks in later rounds who are likely to perform well.
Perhaps the best example of this last year would have been those lucky souls that drafted Robert Griffin III. This is something I did, because I am a Fantasy Football savant. Also because I was appeasing my Redskins fan of a boyfriend, but mostly because I am a savant. Anyhow, as an unproven rookie RGIII was drafted, on average, in the 8th round of Fantasy Leagues last year. By week 15, however, he had scored more fantasy points than all but one other player (Tom Brady). Can you say value investing? That pick has Berkshire Hathaway written all over it.
The Veteran: Trust Pedigree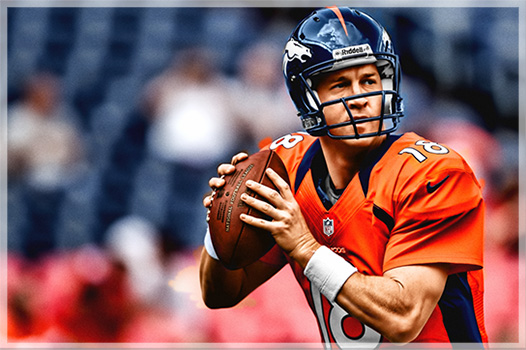 This year, I plan on drafting Peyton Manning, starting Quarterback for the 2014 Superbowl Champion Denver Broncos. [ed. Note: I am from Denver.] I'm taking my cues here from Warren Buffett, who favors long term investing, and continually trusts outstanding companies to continue performing years on end.  Take his stock in the Washington Post, for example. Buffett's first shares in the Post were purchased in 1973. As of early August, 40 years later, these shares totalled 1.7 million and were valued at $1.01 billion.  Decent return, no? Think of all the Papa John's pizza he could buy from Peyton with that money.
I bought stock in Peyton Manning long ago, because a solid SNL hosting appearance is one of my key performance indicators. Like Buffett, who refused to waver when newspapers started to migrate online, I chose to stand strong after Peyton's neck surgery. Or, as I like to refer to it, Peyton's "Neck Rejuvenating Sabbatical Before Leading the Broncos Back to Glory." This year, I expect the Manning sector will continue to be one of the strongest in my portfolio.
The Return from Injury: Invest at a Discount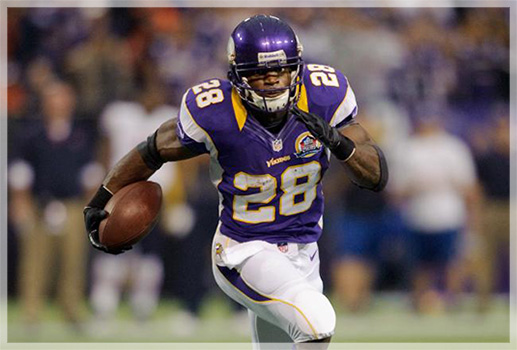 Did you draft Adrian Peterson last year? When you inevitably won your league, did you send him an enormous Edible Arrangements bouquet? Or at the very least, a thank you tweet? Lord knows he deserves it; that young man ran many many yards for you, and scored 12 touchdowns along the way. What's more, you drafted him, on average, as the 21st selection. He finished the year as the first overall Running Back. Give yourself a pat on the back for wisely investing in Peterson at a pretty great discount.
This is something Warren Buffett knows all about, considering his investment in Visa directly after its stock price fell. Today, he continues to invest in Visa and its credit card counterparts American Express and Mastercard, all three earning quite well. Although Visa was down for the moment, Buffett trusted its strong brand and growth prospects when deciding to invest.
After all, Buffett's philosophy teaches us to look ahead, not behind, for good investments. In his own words, "Investors should be looking to companies that will have good value in ten years." Based on his time frame here, we can assume Warren is in a keeper league. But those of us who have only a ten week time frame can still take his advice to heart when drafting. We should try to overlook short term injuries in favor of long term fantasy returns. Peterson's performance in 2012 was the perfect example; he was everywhere you wanted him to be! (Ahem, the endzone.)
Unfortunately the cat's out of the bag on Adrian Peterson for this season. Zoom! That was him flying off the board as the first pick. But there are others returning from injury that might be worth your discounted investment. LeSean McCoy, perhaps. Or Rob Gronkowski, for example.  And if you're truly courageous/crazy, maybe even Michael Vick. Maybe. You know, depending on your acceptable level of risk.
The Investing Fantasy Football Guru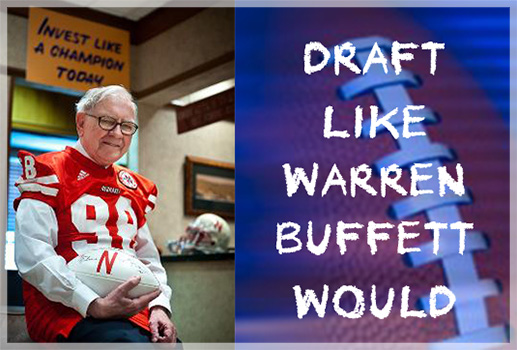 The Fantasy Football season is a long one, with countless hours spent hoping your receivers stayed inbounds and agonizing over lineup decisions. If you're investing that much time and energy into the process you might as well try to maximize your returns. So when you log on to draft this weekend, heed the master's advice. "Buy Low" when you can, trust your veteran performers, and look for discounts. And if possible, always try to grab RGIII. That's how Warren Buffet would draft, anyway.
Who are you looking to draft (or invest in) this year? Let us know in the comments section below.