Going back to school after a summer of fun and freedom from the financial crunch that goes along with student life is hard. Being a broke student isn't all that much fun, rushing to complete essays on time is a headache and worrying about what happens after graduation is stressful. So when the going gets tough, the tough get depressed, want to quit or simply start slacking academically. Unfortunately, none of those responses helps you (financially, emotionally or academically). Your mom probably won't be too impressed either.
If you're going to spend all that money going to college, you might as well learn from it, and find a way to enjoy as much of it as possible (by this I don't mean maximizing your attendance at keggers). Here are three of the biggest back-to-school problems that students face, and how to solve them…
The Problem: Financial Instability
First and foremost, I want to address the main problem areas people encounter during back to school season.  Financial instability is the plague of a student's life at college.  You're not working full time, your classes require expensive textbooks and having a social life doesn't come cheap either. What can you do? That's just life as a student, right? Wrong.
The Solution: Budgeting
Budgeting is a life skill, learned through practice and improved with experience. But like all habits, you actually have to do it to get into the habit.  People don't tend to abide by budgets very well when they go off to college, and student debt can rack up really quickly. So when you go back to school this year, be prepared and plan a realistic budget that will take into account all of your spending and income.  By developing solid personal finance habits you are giving yourself an advantage for life after college.

Helpful tool: Budgeting application Mint.com.

The Problem: "Why Am I Here?"
If you don't have any idea of what you want to get out of college, then you may be wasting your time.  College doesn't guarantee you a job, as education is now far more accessible than it's ever been.  So if you're in school bumbling around because you simply don't know what else to do with yourself then you are probably there for the wrong reasons.  Many college students lose sight of the reason they decided to go to college in the first place, and instead all they feel is this blind need to graduate in anything.   Let's face it, this isn't great for your motivation, finances or your grades.
The Solution: Look For A Purpose
So you don't know what you want to be when you grow up.  That's ok, you're young, you have your whole life ahead of you… Now start looking.  First, it isn't ideal to go into a program you hate from day one.  In the event that you have already started a program you hate, it may be time to start taking electives that interest you or lead to a career that could interest you.  Still not sure what you might like?  Every college has career counselors, and every student should visit one in the first few weeks of classes (most schools will let you switch classes during these first weeks). These people are the secret weapon of happy and successful former students.  They possess a wealth of knowledge about jobs you may not know exist, and they know what classes can help you get there.  And the best part, their services are free!
Helpful tool: Self Assessment Quiz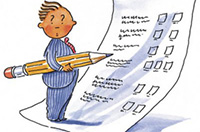 The Problem: Bad Studying Habits
Student life is busy (sometimes overwhelmingly so) and good habits can be really hard to maintain.  Habits like reviewing notes after classes or starting to write your essays early on in the semester can be hard to start and harder to maintain. Then, by exam season your life is a runaway train with no money, less time and a lot left to learn. This isn't fun, it's stressful.
The Solution: SMART Goals make Habits Stick
Set SMART goals.  Setting goals will help make your back to school workload easier to manage while helping organize your time better.  More time means less stress and more fun.  Goals will also help keep you on track for success throughout the school year. SMART is an acronym that was designed to help people set better goals for themselves and can be a great help with going back to school.
Specific:  Your goals should be specific enough that you know exactly what you're aiming for.  Detailing the course of your goals and the smaller steps required to achieve those goals will help.
Measureable:  Anything that can be measured can be improved, according to Tim Ferriss (and probably many other people).  Measuring your goals, and ensuring that they are measureable will help hold you accountable for achieving them.  It's also allows for much more realistic expectations.
Attainable:  Don't set goals that are unattainable, that will just depress you.  However you will find that a lot more will be attainable when you are working towards more, smaller goals than massive, overwhelming goals.
Relevant:  When you're in college, you want to set college goals.  For your home life, you want to set home life goals.  Keep the goal relevant to the aspect of your life that it affects, and work on it at the relevant time and place.  Focus makes things move faster than mass multitasking.
Time Bound:  You have to set a time limit on your goals.  When you have an indefinite amount of time to get things done, nothing tends to get done.  Keeping your goals smaller and more attainable goes hand in hand with keeping them on a short timeline.  You don't want to forget your goals before you achieved it.
 Helpful tool: Interactive SMART Goals Creator