Like the rest of you, I've been tuning in with anticipation to The Intern's blog as he builds his first portfolio. But since I also work over here at Wall Street Survivor (Marketing), The Intern has graciously invited me to his league and to blog alongside him.
Although the experience is all about learning and providing transparency to the stock picking process (even if that strategy is throwing darts at a board like The Intern), we may turn this into a little contest down the road.
But before we get started here's a little bit about me and my portfolio strategy…
When I started working at Wall Street Survivor 5+ years ago, I knew very little about the stock market. Like The Intern, I had a finance degree, and even worked for at a hedge fund for a little while before starting here. But as we both quickly learned, a theoretical understanding of the market is one thing, but putting your money on the line and actually building your portfolio is another.
5 years ago my strategy was simple…I didn't have one! My objective was totally unrealistic but probably familiar to a lot of newbie investors out there: to make as much money as possible as quickly as possible. Meaning, I'd buy high-risk, naked options around earnings season, triple-leveraged ETFs (FAS and FAZ were on my speed dial) and penny stocks (If you don't understand these terms, don't worry, neither did I!!). Needless to say, the results were awful. After a year, my portfolio (if you can call it that) dropped 70+ %.
With that experience, I decided to take a more disciplined, value based approach and the results have been great so far. Here's a screenshot of my Wall Street Survivor portfolio that I've been managing since 2009: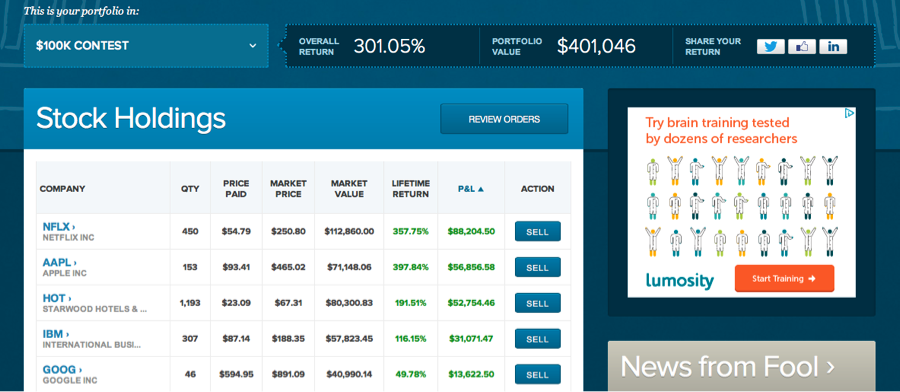 No doubt there was more than a little luck involved here. I started investing in 2009, right as the market started to rebound from the "Great Recession", so a lot of my purchases came at optimal times. For example, I was able to snag Apple at $93 for a 397% gain! Luck aside, I have definitely learned from my successes and failures, and have put together (I think) a pretty logical portfolio strategy.
Here's my general portfolio strategy, broken down by cliché:
1.    Diversification is a protection against ignorance.
This could also have been written as "Buy what you know". When I first started buying stocks for my portfolio, I thought I needed to build the most diverse portfolio possible to reduce my risk. I thought of it like a checklist. Tech stock, check. Energy stock, check. Small-Cap stock, check…etc.
The truth is (and I think this is true for a large number of people) I don't know a whole lot about a lot of things. For example, I know next to nothing about energy, pharmaceuticals, commodities… so why would I invest my money in those categories?
The market moves on information, and if you're not,
a. first to get that information, or
b. first to correctly interpret and act on that information,
then you have no chance of beating the market. None.
Instead of diversifying, I try to invest in companies in which I have a competitive advantage over the market.  Case in point, because I live and breathe technology, that's my competitive advantage. I can see trends faster than the general market. It's no surprise then that 70% of my portfolio is made up of tech stocks. What's your competitive advantage? What do you know better than everybody else?
2.    It's better to own a great company at a good price then a good company at a great price.
This seems like a subtle difference, but in reality it's huge.
I try to focus less on stock price and on "technicals" and more on company fundamentals and industry trends. In fact, if possible, I try not to think about price at all. Instead, I try to think about how much value the company will create in the future. If you believe a company will create more valuable in the future, be it through innovation and new products, increasing sales etc, then the company will be more valuable in the future, simple as that. And whether you buy that company for a good price or a great price, you'll likely make money in the long run.
For example, I own LinkedIn in my real-world portfolio. I bought in at around $180 per share. I know that price is high, and that its PE ratio at 800+ is ridiculous. But despite that, I'm a proud and happy investor because I think the company will create more value through their Talent Solutions and Premium Subscription services in the future. And if the company continues to grow their earnings, then their PE ratio will adjust. I have no doubt that LinkedIn is a "great" company and I'm ok with paying a little more for it.
On the other hand, last April I really wanted to buy Tesla. I love their innovation, their progress and like everybody else I'm a huge fan of Iron Man (err, I mean Elon Musk). The stock was hanging around $50, and the thinking was that it was too expensive. I surveyed the office to see what other people thought. Some answers included "it seems expensive, it's pushing its 52 week high" and "no way! It hit the 200 day moving average, it's due for a reversal". Putting all that jargon aside for a moment, I listened to their "technical" advice, and convinced myself that it was bad price, and didn't buy it. Obviously, that was the wrong decision. Since then the stock price has tripled!
At the end of the day, the technicals told me it was a buy at $40 and a hold $50. Because I wouldn't have gotten in at a "great price", I missed out on a 200%+ gain.
So lesson learned, it's better to own a great company at a not so good price than the alternative.
But that only works if…
3.    My favorite holding period is forever a really long time.
Slightly adapted from a famous Warren Buffett quote. Investing for the short-term is for professional traders, institutions and people sitting in front of their trading accounts all day. I've learned that "day trading" is way too risky for people like me (and presumably you).
For me, over the short-term (months), the market is irrational and way to volatile. In the short-term, you lose money when there's trouble in Egypt, corruption in Greece and oil spills in the Gulf of Mexico. But in the long run (years), that volatility smooths and events that captivate the markets and wreak havoc on your portfolio are long forgotten.
Check this out. Here's the S&P 500 from September to December 2012:

A quick look at the graph above, and it looks like the market is beginning to tank. Some "traders" will look at this, panic and cut their short-term losses.
Here's how that chart looks stretched out to 9 months rather than three.

Completely different picture, right? That short-term loss was temporary, and if you sold-off, you would have missed out on the next rally.
Ask any investor how to invest and 9 out of 10 of them will say something like buy low, sell high. Well I've found that proposition to be almost impossible in the short-term (months) but much easier in the long-term (years).
Ok, origin story over. That's my basic strategy. Let's get to the good stuff.
Stock number #1 – Amazon (AMZN)
I promise I had this pick in mind before Jeff Bezos bought the Washington Post and dominated news cycle. I'm an unabashed fan of Amazon, and own it in my Wall Street Survivor and real money accounts. I think it's an unbelievable company (not just great) and can be had a decent price. Here are a few reasons I'm bullish on Amazon.
1. Jeff Bezos = CEO extraordinaire
Along with Steve Jobs (Apple) and Larry Ellison (Oracle), I think Jeff Bezos is the greatest Tech CEO in history (you can debate me on this in the comments if you'd like…but bring your boxing gloves J).
He had the foresight to completely disrupt an industry that no one at the time thought needed disruption. He continues to innovate and push the envelope, and I have no doubt that he'll continue to do so in the future. Among his many inspiring accomplishments: built the biggest online retailer on the planet, invested in companies like Uber, Behance and Airbnb, and his other company, Blue Origin, is simultaneously scouring the ocean for spaceship remains (they recently dug up Apollo 11) and are working towards sending humans into orbit. Just a next level entrepreneur.
 2. Their MOAT is bigger than your MOAT.
Another term stolen from Warren Buffett. A "moat" is a body of water that surrounds a castle and serves to "protect" the people within from outsiders. Buffett uses the term to describe significant advantages (or barriers to entry for you business folk) a company has over its competitors. I'd say Amazon's moat is the size of the Pacific Ocean.
Besides their ENORMOUS inventory of books, Amazon can ship almost anything to almost anybody IN THE SAME DAY. Think about that for a second and what kind of accomplishment that is.
That kind of logistics is not something that can be built overnight. It takes years of planning and implementation and millions of dollars in investment. Its consequences in terms of opportunities (delivery of perishable goods like groceries) and competitive advantages are huge. Why would I buy something that I will get tomorrow when I can buy the same thing and get it today?
3. They diversify
Question: Amazon is which of the following?
a. The worlds largest book AND ebook retailer
b. The single largest e-commerce retailer
c. A cloud service company
d. A hardware company
e. The web's biggest affiliate
f. A content producer
g. A content distributer
h. All of the above
I think you know where I'm going with this…
The answer is H.
From Amazon.com, to Kindle, to Kindle Fire, to AmazonPrime, to AmazonFresh to AWS to Zappos, it's truly amazing what a single company can accomplish.
So, without further adieu my first stock pick coming up.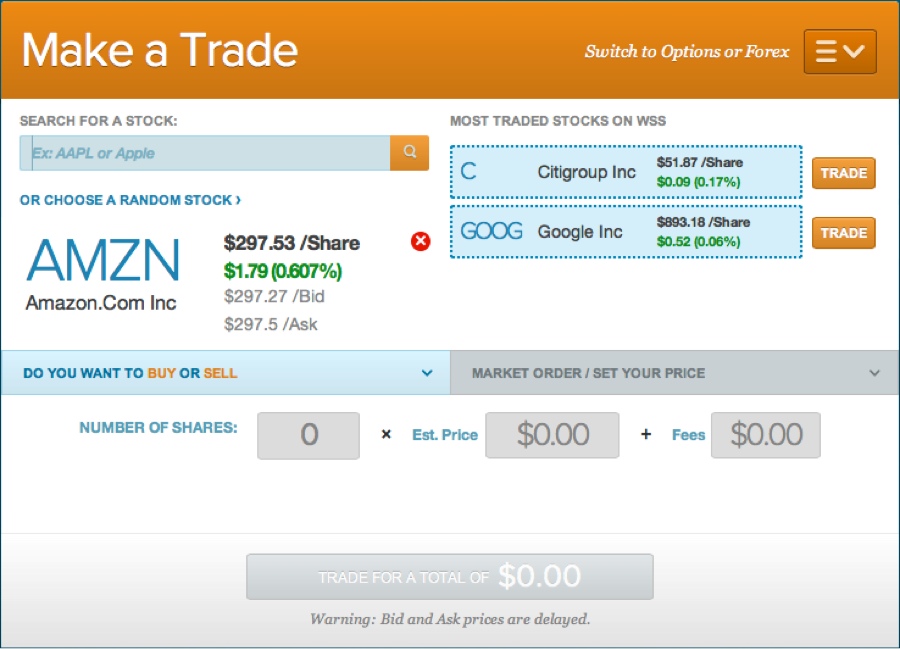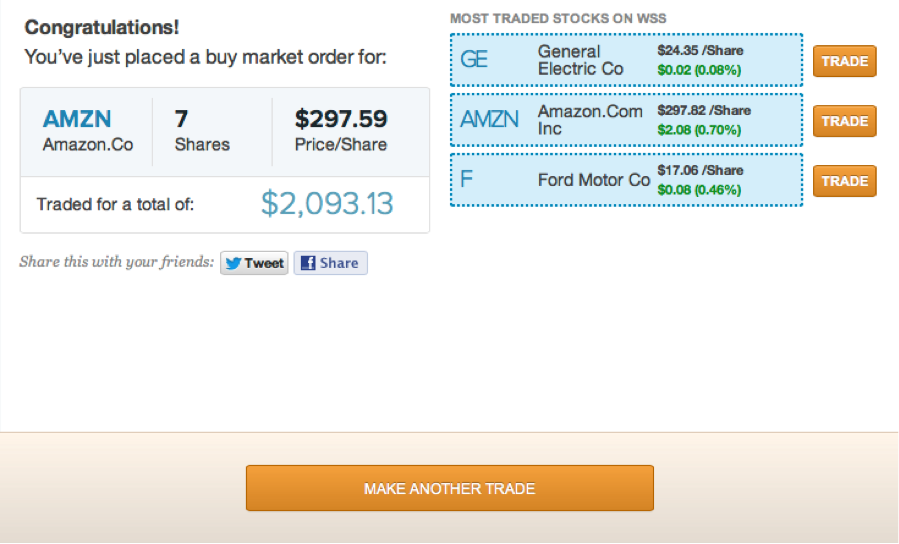 And there you have it. With only $10,000 to invest, I've placed roughly 20% of my portfolio in Amazon. I may look to build on this position as my portfolio grows.
Check out the WSS Intern league for progress on our competition, and stay tuned to the blog for some more stock picks in the coming weeks.
If you have some questions or comments for me, let me know in the comments below. Cheers!