Ain't Screaming "Yahoo!" Just Yet
Soooo…not the greatest start. Good thing I'm not a day trader.
Since I bought YHOO last Friday (which I oh-so-wonderfully describe in my previous blogpost), the price has dropped nearly 5%. Since it's the only stock I'm currently holding in my Practice Portfolio, my entire Practice Portfolio has dropped about 5%.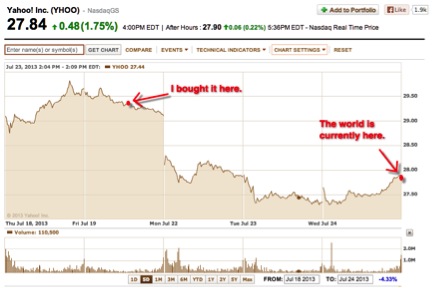 Why Did Yahoo Fall 5%
Third Point. 
No, I didn't have two first points as to why Yahoo fell and forgot to include them in this post. Third Point is the name of a hedge fund that just sold 40 million shares of Yahoo, bringing its stake in the company down to less than 2%. The head of Third Point, billionaire investor Daniel Loeb, is also stepping down from the company's board.
That's why Yahoo's stock dropped so significantly. Investors saw a large institutional fund that had close ties with the company sever its ties. People tend to take this as a loss of confidence in the stock. So they sell. But here's why I'm not losing confidence, and not selling…
See Mr. Loeb is what's known as an "activist investor", which means that he doesn't just make an investment and let it ride; he gets involved in the company. This is exactly what Loeb did. He joined the Yahoo's board, and played a role in the management shake up of the company, which included appointing ex-Google employee Marissa Mayer as the new CEO about a year ago.
But most activist investors don't stay long. They get in, make their mark, and get out hopefully at a profit. That's what Loeb has done here, getting out right after Yahoo announced strong earnings and their stock shot up 8%.
So kudos to Loeb and the Third Point team, but I'm playing a different game. Institutional investors such as hedge funds are often jumping in and out of stocks, so volatility is to be expected in any investment. But I'm in Yahoo for the long haul, so I'm shutting out the market noise and sticking to my guns. Warren Buffet style…
On To The Next
Ok, so now it's time to grow that portfolio of mine. I only got one measly stock sitting in there. And if the Basics of Diversification Course has taught me anything, it's that holding too few stocks is way too risky.
Especially a tech stock. With constant and rapid innovation, tech companies are always changing and adapting, or else they're dead. So holding stocks in this sector comes with a lot of risk.
Thus, I think I ought to diversify by industry, and invest in a company in a completely different sector. So if we enter Tech Bubble #2, not all my investments will be toast.
My Second Stock Pick: PG
I've decided to go with the consumer staples industry, since it's considered a pretty safe sector of the economy. Consumer staples are all those essential products that we need to live: food, beverages, household items, etc.
Proctor & Gamble is a leader in the consumer staples industry, with an array of product lines such as: Dawn, Tide, Oral-B, Gillette, Duracell and many more. Most of the essential items' brands that you know of, they own.
Now I plan to own their stock. Here's why:
As I said, diversification: Warren Buffet says, "Diversification is protection against ignorance." He claims that you only need to diversify if you don't know enough. Even though I'm around tech stock news all day everyday, I can still easily admit to myself I don't know enough. So…diversification it is.
Safety: The company is strong. They've been around since 1837. And the products that P&G sells are not only very well known, they're also necessities. Even when the economy isn't doing so well, these products are still being bought. You still need to brush your teeth in a recession, don't you?
Steady Income: Proctor & gamble pays a dividend, and a healthy one at that. Their dividend yield is currently 3%. This means that if they were to announce a dividend payout today (with the stock price currently at $80.27), they'd pay a dividend of $2.41 per share. Multiply that by a few thousand shares, and that's some nice investment income. Not only that, but the company's payout has steadily increased for the past 57 years straight.
Growth: This is not some old, boring grandfather of a company. They're huge on innovation and market growth. 65% of their sales are coming from outside of the U.S., with huge growth potential in emerging markets. Also, as the U.S. economy improves, people are switching back from no-name brands to their P&G favorites.
Warren Buffet owns it: 'Nuff said.
I think I make a pretty strong case for why this is a great stock to hold for the long term. As I said in my previous blog post, I'll be investing around $1000 into each stock I choose. At a price of $80.27 per share, that comes out to 13 shares of P&G. So I guess you can say this stock purchase is PG 13! (hahahahaha I'm so funny.)
Less talk, more action. Here we go: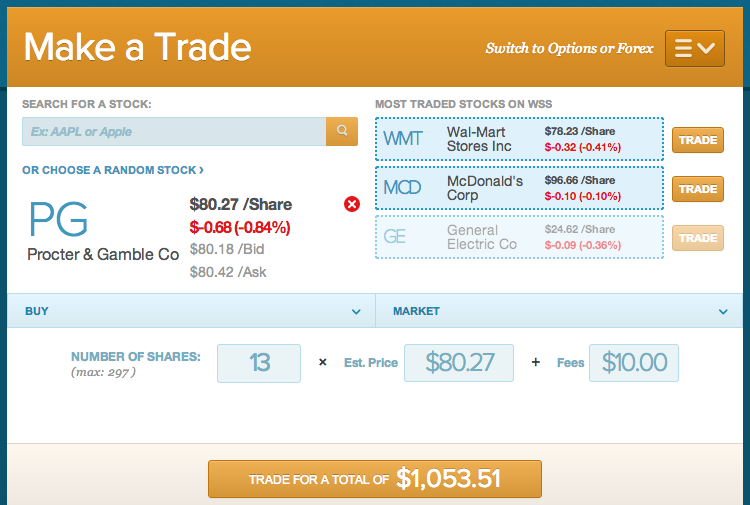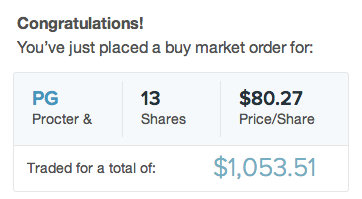 Done and done! Now my portfolio is rocking 2 amazing stocks from 2 amazing companies: Yahoo and Proctor & Gamble. Tune in next week to see how my investments are doing, and check out my third stock choice.
Let's Chat
I'd love to hear any comments/opinions/advice on my stock buying decisions, good or bad. I'm looking to learn as much as I can about the stock market, and talking to others about it is extremely beneficial. (If you're too shy to leave your comment in front of all these people, just email me.)
Side note: I just started reading The Intelligent Investor by Benjamin Graham. You should too. (Unless you don't want to be as smart as me.)
Thanks for reading and happy investing! May all your stock dreams come true…
– The Intern