Hey,
---
ALSO READ: How to Pick the Best Rewards Card for You
---
My name's Matthew and I'm an intern at WallStreetSurvivor.com. I've been working here for nearly six months now, and to say it's been a steep learning curve is an understatement.
See I graduated from college with a BComm in General Management, concentrating in Finance and Entrepreneurship (a concentration is a polite term for "this dude didn't do a major"). I was originally majoring in Finance, but I hated it.
Why did I hate it?
*** SPECIAL ALERT -- May 10, 2020 -- Motley Fool Stock Picks On FIRE! ****
The recent Motley Fool stocks picks, even with this COVID crisis, are STILL performing well and beating the SP500! Here are some of their most recent picks and their performance:
Shopify (SHOP) – April 2, 2020 pick and it is already up 90%
Zoom Video (ZM) – March 19, 2020 pick and it is already up 16%
DexCom (DXCM) picked Feb 20, 2020 right before the market crashed and it is still up 17%
Tesla (TSLA) picked January 2, 2020 before the crash and it is up 77% compared to the SP500 -12% so it is ahead of the market by 89%
HubSpot (HUBS) picked December 5, 2019 and it is up 4%
Netflix (NFLX) picked November 21, 2019 and it is up 37%
Trade Desk (TTD) picked November 11, 2019 and up 50%
Zoom Video originally picked Oct 3 and it is up 87%
SolarEdge (SEDG) picked September 19, 2019 and it is up 20%
Zoom was also picked October 3, 2019 and it is up 95% since then.
The average stock they've recommended is up a life-changing 346% - more than 4X the return of the S&P 500 ! Now, no one can guarantee that every pick in Stock Advisor will have the same mind-blowing returns as Netflix and Disney. But you sure don't want to risk missing out.
Normally the Fool service is priced at $199 per year but they are currently offering it for just $99/year if you click this link. 
Hurry! Order now so you will get their next stock pick! Here is the expected schedule of release dates for their stock picks...:
June 4 - Tom's New Recommendation
June 11 - Tom's New Best Buys Now
June 18 - David's New Recommendation
June 25 - David New Best Buys Now
CLICK HERE to get The Motley Fool's Stock Picks for just $99 per Year! 
Because of how theoretical it all was. I wasn't learning about the actual going ons of the stock market. I wasn't learning about how to make actual financial decisions in the real world. I was learning how to plug numbers into formulas that are all computer automated today anyways.
It wasn't until I started working at Wall Street Survivor that I started getting finance. By actually following stock market news, and learning concepts in a more practical, applicable manner, it now makes more sense to me than ever.
I'm not sure how ready I am to jump in the actual stock market just yet. Putting my (small amount of) money on the line doesn't sit well based on my still developing level of confidence. So I've decided that first, I'm going to use what's available to me: Wall Street Survivor's stock simulator.
I'm going to build a practice portfolio…but not just any practice portfolio. I'm going to build a realistic practice portfolio, with stocks that I would actually buy in the real world with real money (once I'm really ready).
So to make the conditions as realistic as possible, I'm going to start by investing a modest amount: $3000 dollars. I've split that up into 3 separate investments of $1000 each. Today, I'll talk about my first investment:
My first stock ever: YHOO
Many big shot investors, including the likes of Warren Buffett and Peter Lynch, preach the mantra "buy what you know". I don't know much of anything. But working at a tech startup in the financial education niche has definitely had a great influence on the type of stocks that I follow. You guessed it: tech stocks.
And just like anyone else who follows the tech space, I've had my eye on Yahoo. In the past year, under CEO Marissa Mayer, the stock is up nearly 75%. What is priced into these gains? Well, in my view, Mayer's efforts to make Yahoo relevant again are just beginning, and investors are taking notice of that potential.
In Mayer's first year, Yahoo has acquired about 20 companies, including Tumblr for $1.1 billion. She is also going through a complete overhaul of Yahoo's fleet of mobile apps. I think this move towards a younger, cooler Yahoo will prove profitable in the future.
But not all thanks go to Marissa Mayer. A big part of Yahoo's jump in value is thanks to its 24% stake in Chinese company Alibaba. The e-commerce site is supposed to go public in late 2013, which values Yahoo's share of the company at around $14.4 billion. That's around half of Yahoo's total market cap. When Alibaba does IPO, it has the right to buy back half of Yahoo's stake, giving Yahoo a lot of cash to work with in turning Marissa Mayer's dream of a younger, cooler Yahoo into a reality.
I missed out on what seems like the best time to buy Yahoo. They just announced their quarterly earnings which beat estimates, shooting the stock up another 8%. But I consider this to be a long-term investment. Although I'm only investing around $1000 today, I plan to load up on more Yahoo stock and hold it for years to come.
So here goes nothing (literally…since it's fake money). I'll now purchase my first stock: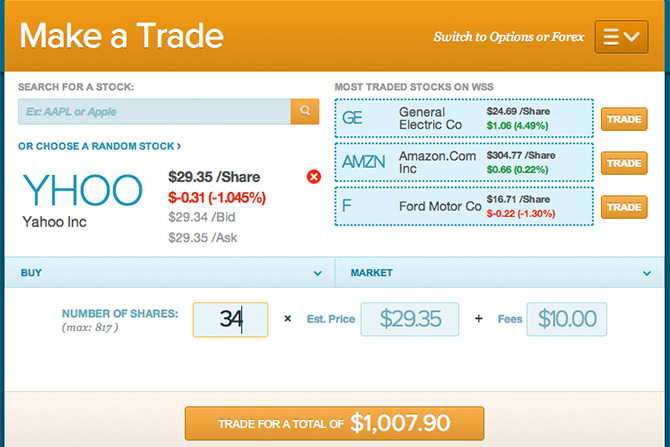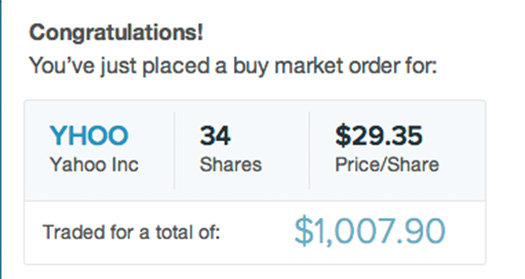 And there you have it! I am officially in the market. Next week i'll discuss my second stock choice and give you my extremely intelligible reasons for choosing it.
Want to praise my investment decisions-making skills? Want to tell me how horrible of a buy this was? Got any sort of question or comment for me? Let's talk…just leave your comment in the section below. (And be nice! I'm fragile.)
Thanks for reading!
---
INVESTING TIP #27-- HOW TO GET FREE STOCK!
Get Up To $1,000 in Free Stock with Robinhood--the Commission-Free Brokerage!
Open a new account and receive one free stock valued at up to $500! Then, once your account is open, get more free stocks (value from $5 to $500) for each friend, family, person you refer!
USE THIS LINK
to get started with Robinhood!
---