They say Wall Street never sleeps, and neither does the team over here at Wall Street Survivor.
---
ALSO READ: Five Free Apps to Keep Your Financial Plan on Track
---
Over the last year, you've seen the site change dramatically: a brand new and "cleaner" interface, new content in the form of Courses (formerly "Missions"), articles and videos and improved gameplay.
Over the last six months, we've listened intently to your feedback and are really happy to be rolling out some exciting new features over the next few days. 
        1. New Dashboard Page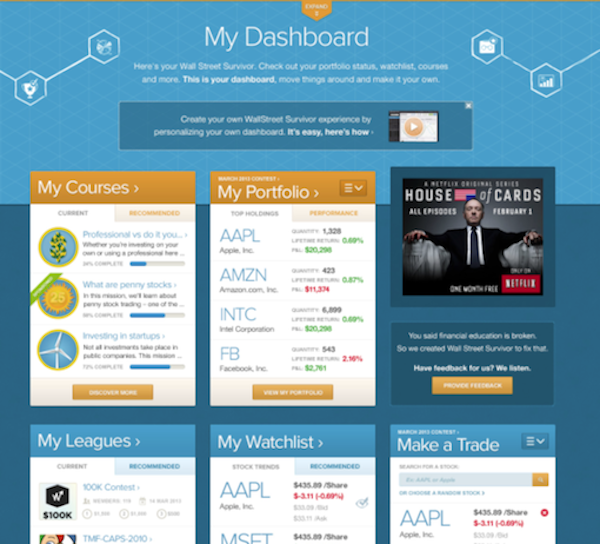 *** SPECIAL ALERT -- May 10, 2020 -- Motley Fool Stock Picks On FIRE! ****
The recent Motley Fool stocks picks, even with this COVID crisis, are STILL performing well and beating the SP500! Here are some of their most recent picks and their performance:
Shopify (SHOP) – April 2, 2020 pick and it is already up 90%
Zoom Video (ZM) – March 19, 2020 pick and it is already up 16%
DexCom (DXCM) picked Feb 20, 2020 right before the market crashed and it is still up 17%
Tesla (TSLA) picked January 2, 2020 before the crash and it is up 77% compared to the SP500 -12% so it is ahead of the market by 89%
HubSpot (HUBS) picked December 5, 2019 and it is up 4%
Netflix (NFLX) picked November 21, 2019 and it is up 37%
Trade Desk (TTD) picked November 11, 2019 and up 50%
Zoom Video originally picked Oct 3 and it is up 87%
SolarEdge (SEDG) picked September 19, 2019 and it is up 20%
Zoom was also picked October 3, 2019 and it is up 95% since then.
The average stock they've recommended is up a life-changing 346% - more than 4X the return of the S&P 500 ! Now, no one can guarantee that every pick in Stock Advisor will have the same mind-blowing returns as Netflix and Disney. But you sure don't want to risk missing out.
Normally the Fool service is priced at $199 per year but they are currently offering it for just $99/year if you click this link. 
Hurry! Order now so you will get their next stock pick! Here is the expected schedule of release dates for their stock picks...:
June 4 - Tom's New Recommendation
June 11 - Tom's New Best Buys Now
June 18 - David's New Recommendation
June 25 - David New Best Buys Now
CLICK HERE to get The Motley Fool's Stock Picks for just $99 per Year! 
The first thing you'll notice is a much friendlier look and feel. But here are some other features we've added:
Drag and Drop widgets: This is your dashboard. Organize the page the way you want.
Make a Trade: We know you want to get to the action quickly, so we've added a trade widget to the dashboard page where you can place your order quickly and easily.
A Watchlist: Not ready to make a purchase but want to keep an eye on a stock? Just add it to your watchlist and get ready to pounce on it when you are ready.
Quick portfolio: We've put a portfolio widget on the dashboard so you can see how your stocks are doing immediately.
Responsive Design: The page is "responsive", which is a fancy way of saying it will work perfectly on your iPad, iPhone, Samsung or any other smartphone. Have a look below: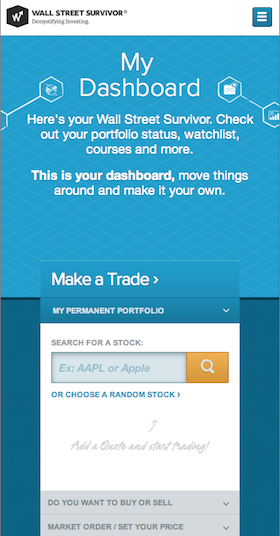 2. New Trade Page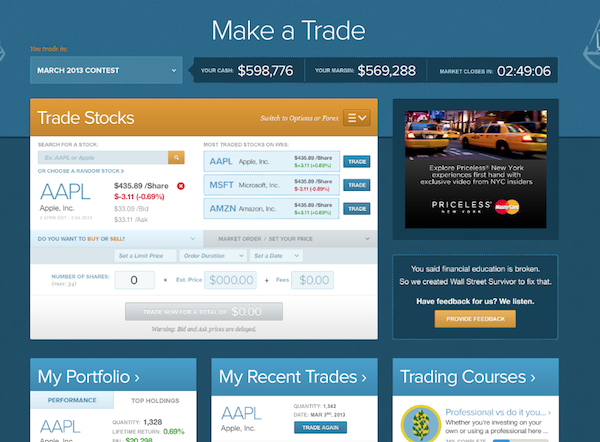 In the old design, we really tried to hold your hand through the trading experience, and cater it to the "newbie". We realize we may have gone too far… In the new design, we've simplified the trading experience making it much simpler to place your trades. Oh and by the way, the trading page is made for mobiles as well!
        3. Speed.
Out of all the feedback we receive, speed seems to be the biggest concer. On the new dashboard and trading page, you should notice immediately that the site is much faster.
How did we do that? We rebuilt our database from the ground up, that's how.
Implications for you: Unfortunately, after rebuilding our database, your Course progress will be lost. This was unavoidable, but we will be much better off afterwards. So if you have already completed some courses, or if you have some in progress, it'll restore to zero. No matter…this makes for a perfect time to refresh your memory on what you've learnt so far!
In the weeks and months ahead:
That's not all.
Over the next few weeks and months, we will be rolling out changes to the Portfolio, Course and Leagues pages that we know you'll love.
Here's a sneak peak at what's to come:
Courses Page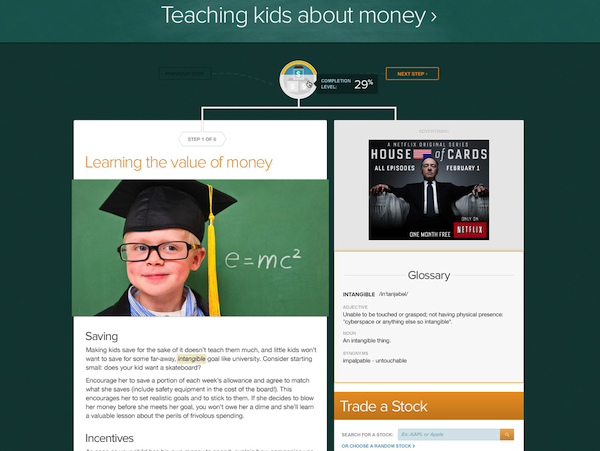 Portfolio Page: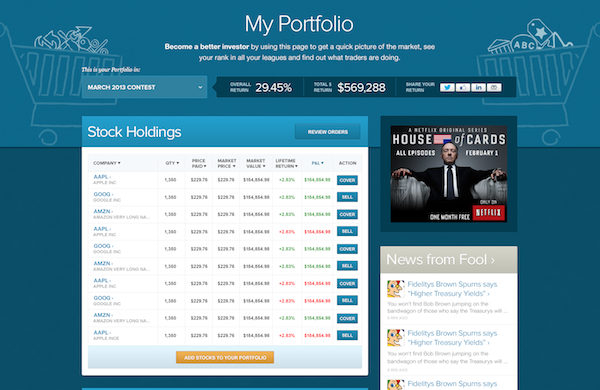 That's all for now, keep following the blog to keep up with what's changing, or follow us on Twitter or Facebook.
If you encounter any bugs please email us at support@wallstreetsurvivor.com
If you have some general feedback for us, you can reach us at feedback@wallstreetsurvivor.com
---
INVESTING TIP #27-- HOW TO GET FREE STOCK!
Get Up To $1,000 in Free Stock with Robinhood--the Commission-Free Brokerage!
Open a new account and receive one free stock valued at up to $500! Then, once your account is open, get more free stocks (value from $5 to $500) for each friend, family, person you refer!
USE THIS LINK
to get started with Robinhood!
---