This week we take a look at the stock market crash of 1929. This was the worst stock market crash in United States history and led to the onset of the Great Depression. You thought the 2008 financial crisis was bad? Take a look at these (not so) fun facts for a reality check:
1) The crash took place in October of 1929, with major shocks on:
Thursday October 24, 1929 – Black Thursday: This was the beginning of the stock market slide. The market fell 11% at the opening bell, with a slight recovery taking place later that day.
Monday October 28, 1929 – Black Monday: This is when things really got bad. More investors decided to get out of the market, and it fell 13%.
Tuesday October 29, 1929 – Black Tuesday: More selling caused the market to fall another 12%, or $14 billion!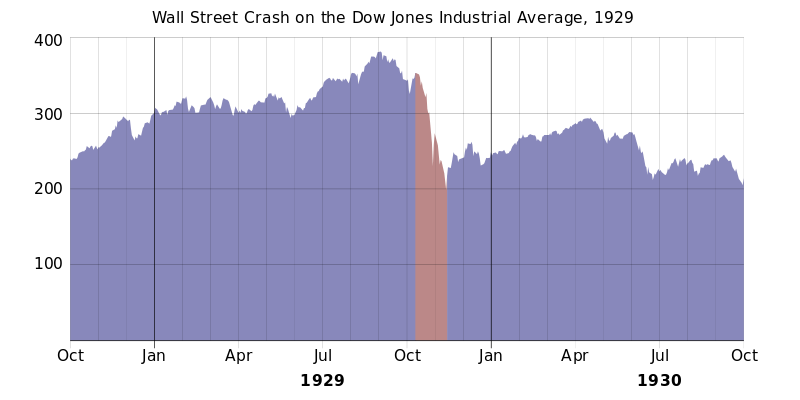 2) The stock market crash led to a huge Bank Run, where everyone lost confidence in the financial system and rushed to take their money out of the bank. When this happens, banks could run out of cash from all the withdrawals and collapse.
3) The 1929 crash led to the Great Depression, which was felt all around the world. Here's what happened in the United States:
Unemployment went up 25%
Wages went down 42%
Economic growth went down 50%
World trade went down 65%
4) The beginning of World War II marked the beginning of America's recovery out of the Great Depression. But it wasn't until 25 years after the crash, in November 1954, that the stock market finally recovered back to its pre-crash prices.
"Anyone who bought stocks in mid-1929 and held onto them saw most of his or her adult life pass by before getting back to even." – Richard M. Salsman
5) Coincidentally, Mark Twain put it perfectly, decades before the 1929 stock market crash:
"October. This is one of the peculiarly dangerous months to speculate in stocks. The others are July, January, September, April, November, May, March, June, December, August and February."
How do you think the 2008 financial crisis compares to the 1929 market crash? Let us know in the comments section below!